If you are experiencing difficulties placing an order, please phone us on
0406 440 196
we are always happy to help.
Leg Protector Sizing and Fitting Guide
To ensure a good fit, each packet has two smaller sizes for front legs for example:
Small packet includes – 2 Small and 2 XSmall (for front legs)
Medium Packet includes – 2 Medium and 2 Small (for front legs)
Large packet includes – 2 Large and 2 Medium (for front legs)
XLarge packet includes – 2 XLarge and 2 Large (for front legs)
* Important *
Please see the below images for reference of where to measure.
The most important measurement is the circumference to ensure a secure fit that stays put on your horse.
Length must be measured along the back of the cannon bone, from just under the knee to the top of the fetlock joint.
The bottom part of the Leg Protector that is designed to fit around the fetlock joint but is not included in the cannon bone measurements.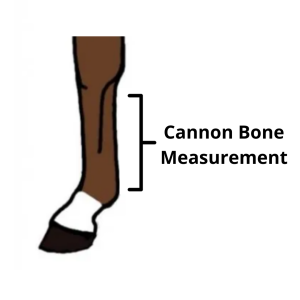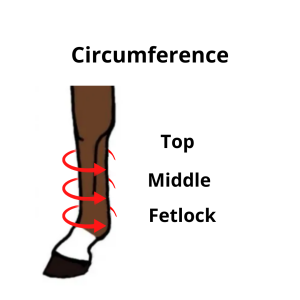 Size
Cannon Bone Measurement (cm)

Circumference
Minimum Width (cm)
Maximum Width (cm)


XSmall


26
Top
21
23
Middle
23
25
Fetlock
26
28


Small


28
Top
22
24
Middle
24
26
Fetlock
27
32


Medium


30
Top
23
26
Middle
25
29
Fetlock
28
34


Large


32
Top
24
28
Middle
26
31
Fetlock
31
36


XLarge


36
Top
28
30
Middle
30
34
Fetlock
34
40
Fitting the Leg Protectors
Check Leg Protectors are in perfect condition before putting on horse.
The smaller pair will fit the front legs and the larger pair will fit the hind legs.
Make sure the horse's legs are clean and dry before putting Leg Protectors on.
Wrap the Leg Protector around the cannon bone.
The Leg Protector is designed to fit around the fetlock at the bottom which is why it is bigger at one end.
Place the binding with the reinforced strip at the back of the cannon bone, this helps to keep your Leg Protectors up.
Attach Velcro strap so they are secure, it is important they are not loose around the leg or able to turn easily. The width fitting is more important than the length.
Repeat this process on all four legs.
Leg Protectors should be removed from the horse regularly to remove any grass seeds, mud, dirt etc.